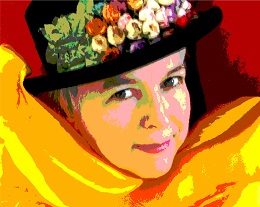 About Me
Born into a family rich in musical DNA, with a multi-generational appreciation for music and the arts (and no shortage of actual expressed talent in the family), I am a life-long singer who loves music and the arts, and who also has a passion for the spiritual and healing arts!
One of my first memories as a child of three years or less was a revelatory experience of hearing a recording of a piano concerto with orchestra; this piece (which I think – but am by no means certain – was by Rachmaninoff or Tchaikovsky) awakened me, for the very first time in my conscious recollection, to music brought forth by the great masters, and to an expansive state of inner excitement this kind of (thrilling!) music elicits, such was its impact on me, even as a small child.
Around the age or five or six, I was captivated by Beethoven's 3rd Symphony (Eroica) and other pieces of classical music that "just happened" to be a part of my parents' collection of LP albums (along with various musicals that I would come to know and love, and eventually sing songs from). Around the house, my father (a beautiful, natural bass voice) would wake me and my siblings at dawn's early light with his vocal rendition of Reveille ("I can't get 'em up, I can't get 'em up, I can't get 'em up in the morning!") followed by recordings that echoed through the house, of Dad's favorite barbershop quartet, the Buffalo Bills. (And of course, he would always sing along!) My mother not only loved music, but was a consummate whistler; my sister is still a recognized performer and personality in our hometown, having spent some time as a professional singer-guitarist, on the road and at home. Various other relatives, aunts, uncles, and cousins, along with both my brothers (one of which put together a quite successful rock band "back in the day") all showed proficiency and interest at one level of musical expression or another.
I was recognized for my singing as early as age five, having begun to sing at an age too early to recall. As a five-year-old child, I was taken by my kindergarten music teacher (who taught at the local university) to a voice class at the university, to show off my "correct diaphragmatic breathing" to her college students. She had me stand on top of a table and sing: "Trot, Trot, Trot, Trot, Trot, Trot, Trot, Trot, Trot Little Pony, Trot!!!" (This, in hindsight, caused me to experience, for the very first time, but not the last, a very nerve-wracking case of "stage fright!")
From around the age of seven I began to study piano. And although it was one of my first "ambitions" to be a concert pianist, when I reached the tender age of around thirteen or fourteen, other things soon took my time and interest, and my piano lessons fell away as that early ambition faded from view. My interest in singing, however, only grew and grew, and I began to sing more, and be known for my voice, as the years passed….I had music classes and choir, every year, all the way from kindergarten through high school (including orchestra!). At age sixteen, in our local Junior Miss Pageant, I received a five-minute standing ovation for my talent, the singing of "Bali Hai" (but, alas, no "formal" recognition other than my standing ovation, and being the obvious audience favorite, "small" favors….!!!). And from the time I was a wee girl, I was always told I was a "natural singer" as I received solos, recognition for my voice, various awards, and ovations along the way, but, interestingly, never had a voice lesson until I entered university as a very "green" (unsophisticated!) singer, at age 18!
During my university years at the University of Colorado in Boulder, I performed several leading operatic roles to acclaim, was the "it" girl of my class (as far as I know!) and competed in vocal competitions, winning first place at least once, in a regional NATS (National Assoc. of Teachers of Singing) competition. My university years and experience (which lasted approximately a decade, as I was to a degree, in and out of uni and attending, instead, "the school of hard knocks" – ie, the "real" world – before I returned to finish my performance degree) are far more colorful than the above description perhaps implies, having occurred in the midst of the Vietnam war, and the hippie, flower power, consciousness revolution of the late 1960s and well into the 1970s. After a two semester lay-over at the University of Wyoming music school in Laramie, where I was initiated into the world of UFO experiencers, hypnotic regression therapies, cattle mutilations and more (during the time when Close Encounters of the Third Kind was in the theaters, and Devil's Tower was all the current rage!), I eventually completed my Music Degree in Voice Performance in Boulder, at the University of Colorado College of Music. From there, spurred on by my Wyoming teacher (who had just won the San Francisco Opera Auditions, and was headed east to her new singing contract in Germany!) I left behind my interim part-time employment as the manager of a Singing Telegram company (Boulder's "Singing Bees," which several of my friends will recall!), packed up my meager belongings and drove east, to New York City, to pursue further vocal studies and performing, fame and fortune (and goodness knows what else), and not having the slightest idea what spiritual and other adventures lay in store for me as a result of that decision and move!
My singing career has been eclectic and quite unique; it has included operatic leads and performances, solo concerts, singing telegrams delivered in a (now infamous!) bumble bee outfit, amateur and professional choruses and chorales, New York City credits in the 1980s, and singing appearances in three quarters of the globe! My decade in the NYC area included creating, producing and directing my own a cappella quartet ("What the Dickens!") and singing business, which netted such prestigious clients as the Plaza and Waldorf Hotels (and who was captured on video, in a Christmas performance on the streets of Fifth Ave., then featured on Good Morning America's Christmas Eve broadcast.) Upon hearing our Christmas quartet at a famous NYC floating restaurant, Liz Smith, well known NYC gossip columnist gave us a glowing review in print: "We also heard 'What the Dickens,' with thrilling operatic voices….!!" And in case you were wondering if I ever sang at Carnegie Hall……well, yes, I AM that "one in 70,000" who have actually sung at the hall (and even got paid for it!) as part of a solo octet in a choral performance!
Having been an "inveterate spiritual traveler" in the late 1980s and during the 1990s, I performed in a number of different locations and countries, and in various "exotic" venues around the world, including Ganeshpuri, India. I recorded two musical albums where I am the featured solo voice and voiceover (as well as the layered choral voices), and I still look forward to making additional albums that reflect some of my past "themes" as well as current musical interests.
Please follow me on Facebook …