Voice Performance
"Doe Kelly Sings….." Musical Stylings, from the Sacred to the Profane…
Performances currently available in Front Range cities including Boulder, Longmont, and Denver.
Caveat: For my own personal reasons, I remain among the body of the population I call the "great unjabbed;" if you require a musician/singer who has taken the shots, I, sadly, am not your girl and I wish you well. I am sure you will find what you need!!!!!
I am available to perform in other places outside of the Front Range of Colorado with travel and expenses included….
I use my considerable experience as a singer and artist to create and craft a variety of performances in a diversity of styles, using suggestions of costumes at times, and spanning many centuries and genres such as classical, jazz, musical theater, "new age," a cappella, "the old songs," Sanskrit chanting and Gregorian chant, and which wander from the sacred and celestial, to the secular and profane.
Being at university as a voice major led me into a world of serious classical music (see About Doe page), where, it was discovered, I was a light lyric coloratura soprano.
I now include in my performing repertoire not only some of the classical pieces I studied and performed in earlier years, but all of the above-mentioned styles, using a voice that has, as I have grown older, become more cultivated, brilliant in some ways, and rarified with age and experience, and which, I am told by my audiences' warm responses and words, delivers performances that move, entertain and delight, no matter the style.
"Your singing program was wonderful! I felt as though I was actually seeing a Broadway show. You felt – and made us think – you were the actual character. Many thanks!"  J. Block, Retiree, Boulder, CO.
"I just can't believe your performance last night, I just have….I still have goose bumps, I haven't gotten over it, it was just amazing, but I was sooo convinced, I was right there with you as an 18 year old girl……oh, and I've seen live performances of Phantom of the Opera, two of them, and even sat in the front, but they didn't compare to what you did last night, Doe, oh my God!"  C. Reber, Former Activities Director, Boulder, CO.
"Dear Doe……How can we ever thank you for singing the Ave Maria? It was the single most moving part of the ceremony – if only it had been recorded. We looked at each other and choked back the tears of happiness. It had captured a perfect moment of love and unity. In short, we couldn't believe our ears! We will never forget the sound of your utterly flawless "Ave." This note is the best we can do – it was better than we could ever describe. Thanks a million for such an unforgettable moment.  All our best, Cathy and John."  New York City.
Sample Programs: "Doe Kelly Sings….."
An afternoon or evening solo program, approximately one hour in length (possibly longer!), which brings the magic of musical theater and some of the "old songs" right into your own venue, which could be a living room, assembly room, church, chapel, or concert hall. I use my backing tracks and Bose sound system to create a wonderful accompaniment to my songs! (Occasionally, I also perform with other singers and/or jazz or other style pianists.)
Composers/repertoire include – Gershwin, Duke Ellington, Cole Porter, Rogers & Hammerstein, Lerner & Lowe, Andrew Lloyd Webber, and a variety of classical composers such as Mozart, Bach, Bach-Gounod, Cesar Franck, and Henry Purcell.
Solo rate varies by location and projected audience size and begins at $150.
"Doe Kelly – Half and Half.…."
An approximately one-hour-long program of half classical, half musical theater selections combined with a few "old songs." This program is for those with a slightly more discriminating taste and a desire to hear more classical selections and less of secular or popular songs than the above program. Classical selections can include an operatic aria or two, or pieces from the sacred repertoire, including oratorio, and may include compositions by such musical masters as Mozart, Bach, Handel, Schubert, and more.
"Other" possibilities: 
As a Reiki Master Level Practitioner, I also work within the realm of sound healing with tuning forks and other, and would be glad of an opportunity to use my voice and abilities in this particular arena, inquire!
Spontaneous acknowledgments recorded from audience members at a  May 2015 performance:
"Superb." "Doe, thank you so, so, much, that was just wonderful, please come back and do it again."
"I'm from New York and I've seen all the Broadway shows, and you are just as good as anything I've seen! Wonderful."
"You are really talented….."
"Where do you sing? Oh, you teach and sing….I've seen Les Mis live, and this is every bit as good, more people need to see what you do, it's superb."
"You need to come over here, let her tell YOU how great your performance was…..she was just telling us…."
"Please come back and sing for us again!!!!!!"
"We enjoyed it sooooo much!!!!"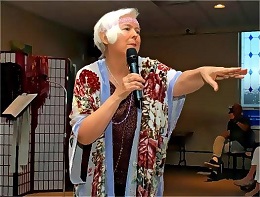 Unsolicited remarks from a memorial service co-participant in Spring, 2014:
"Hi Doe;  Boy, the rave reviews are in. Mary Lu says your solos made the Memorial. The silence after Danny Boy was truly palpable, I think everyone was, well, happily stunned. It was wonderful." Allan Stuart, Jazz Pianist, Solo Performer, Composer, San Luis Valley, CO.
Comments / feedback from an old friend after viewing a video of songs from a birthday concert I did for an elderly friend displaced by flooding, in late 2013:
"Hi Doe, I just got in from my trip to Long Island and viewed the video. Your voice is spectacularly lovely, beautiful, powerful with a quality I can barely find words to express. Radiance turned into sound? Fullness and delicacy, like a flower opening its petals! Joyful. Your voice (and you're very telegenic plus your playful spirit shines through) is so appealing and compelling that I find myself wanting to hear more, and so will everyone else who hears it. Really, Doe, so expressive, lovely, and pure it casts a spell….. …….it was hard for me not to think 'What is she doing singing there (bless you for doing that and bringing such pleasure and healing energy to the elderly) when she belongs on the world stage?'……." Kathy Kass, Hypnotherapist, Mystic, long-time friend, Southern California
If you wish to hire me for a singing engagement, please contact me. Preferences for me include any venue that is lacking, at least to a degree, a heavy wireless infrastructure in any kind of close proximity. In my performances and teaching sessions both, I ask that people power off or place into airplane mode, all their wireless devices! 
Please follow me on Facebook …